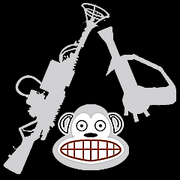 Acquire Waffle Weapons!
is an achievement/trophy in the
Nazi Zombies
map
Der Riese
. It is worth 25 gamerpoints.
How to get the achievement
Edit
To get the achievement or trophy, you need to have the Wunderwaffe DG-2, Ray Gun and Monkey Bomb in your possession at the same time in a single game.
There's 2 ways to make this easier: Either play in Solo, or offline Co-Op. It is nearly impossible online because there's a very good chance of somebody else getting the Wonderwaffe DG-2.
Because of these guns are so rare, it is a good idea to instead go for this Trophy/Achievement in a later round, because you will have far more points. Just make a crawler and spam the Box.