Double Tap
Talk

0
412pages on
this wiki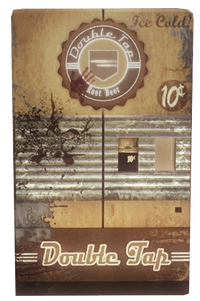 "Double Tap. Double Tap, Double Tap, Double Tap Root Beer. Root Beer. Gotta get that Double Tap Root Beer!" -
Richtofen
after buying Double Tap
Double Tap (formerly known as Double Tap Root Beer) is one of the Perk-a-Cola machines featured in the Nazi Zombies maps of Verruckt , Shi No Numa, Der Riese, Kino der Toten, "Five", Call of the Dead , Shangri La , and Moon  (thus excluding Nacht Der Untoten, Ascension, and Dead Ops Arcade ). This perk increases fire rate by approximately 30% in all weapons. It costs 2000 points, and is generally considered the most useless perk, as it drains ammo in automatic weapons, especially the PPSH-41. Despite this, many other weapons can benefit from the perk, namely the MP40, STG-44, Trench Gun, BAR, and any semi-automatic rifle. It is recommended to buy this perk after Juggernog and Speed Cola. In Verruckt, this perk is located in next to MP40 on the German side of the map. On Shi No Numa the perk randomly spawns in a different hut each game. In Der Riese, the perk machine is on the right of the bridge if the player is facing away from the Pack-A-Punch Machine. In Kino der Toten, it is in the alleyway and on "Five", it is in the War Room. In Call of the Dead, it is at the front of the ship near claymores. In Shangri-La, it spawns randomly underground, and in Moon, it is on the bottom floor of the labs.
Double Tap Root Beer is based off the multiplayer Tier 2 perk "Double Tap".

The logo for Double Tap

Added by

EternalBlaze

Bouncing Betties and Claymores are primed faster with Double Tap Root Beer.
Double Tap causes the upgraded Wunderwaffe DG-2 to become automatic.
It is not recommended to buy this perk if you have weapons that burn ammo quickly or have a high rate of fire.
Double Tap is apparently not on Ascension.
This cowboy is not amusing- Richtofen
Yeah partner, I'm thirsty- Tank
Thank you comrade cowboy-Nikolai
Look Ma! Double speed!- Takeo