Green Run is the twelfth Zombie map, chronologically the eleventh map in the Zombies franchise.
Overview
Edit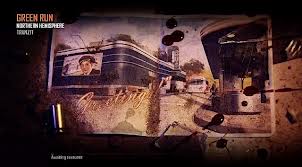 This map consists of four sub-maps, being Bus Depot, Town, Farm, and Diner. Each sub-map holds different gamemodes. On Town and Farm, players can choose between Survival or Grief. On Bus Depot, players can choose between Survival, or the map's main gamemode, TranZit. Diner, which was released with the Revolution DLC, holds Turned. This map features two new methods of transportation, a new natural threat, which is lava, two new enemies, new perks, new weapons, a new Wonder Weapon, and new characters. It also reintroduces buildables, Hellhounds, weapons from Black Ops, and utilities.
Features
Edit
Starting Weapons
Edit
Wall Weapons
Edit
Mystery Box Weapons - 950/use
Edit
Obtainable Weapons
Edit
Buildables
Edit
Electro-Shock Trap
Thrustodyne Aeronautics Model 23 (Jetgun)
Bus/Diner Attachments
Perk-a-Colas
Edit
Power-Ups
Edit
Tombstone
Flesh
Cure
Anti-Double Points
Anti-Nuke
Anti-Insta-Kill
This is the biggest sized map in all of Zombies.